Using Picture This... for Augmentative and Alternative Communication (AAC)
Individuals with severe communication disorders are often unable to use typical means of communication such as speaking or writing. Even gestures such as pointing do not come naturally for some people (such as those on the autistic spectrum). These individuals, however, can still learn to communicate using alternative methods. These methods range from low-tech to high-tech.
Low-Tech Alternative Communication Methods - PECS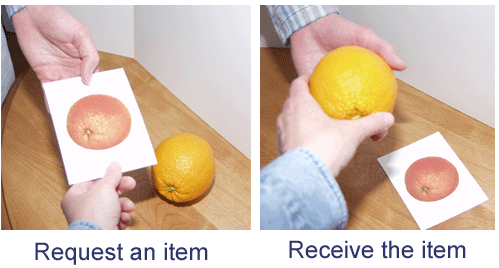 A very common low-tech method that is easy to teach young children, and other non-verbal individuals is called PECS (Picture Exchange Communication System). In the early stages of a PECS program, a child learns to hand the teacher or parent a picture of a desired item. In exchange, the student receives the item. This teaches the child the give and take of a conversation. PECS was developed by Andrew S. Bondy, Ph.D. and Lori A. Frost, MS, CCC/SLP from Pyramid Educational Consultants, Inc. If you plan to try PECS with your child or student, we recommend that you use the Pyramid Educational Consultants' training material so that your child will be successful.
Using Picture This... to Create PECS cards
In order for PECS to work, the child needs to understand that the picture on the card represents the actual object. The more the picture looks like the actual object, the easier it is for the child to make this connection. All of the photos on Picture This... are of actual objects against a plain background. Using our formatting software, you can create cards in whatever size you need, with or without colored borders and with or without text. If your child needs pictures of personal items, you can easily bring your own photos into our program. Picture This... will automatically size them and allow you to add your own labels.
As the child advances, you will probably begin to use more symbols such as those on the Boardmaker program by Mayer-Johnson. When you reach this stage, you may still want to combine some photos with the symbols. All of the photos on Picture This... can easily be imported into Boardmaker by cutting and pasting. If you prefer, you can purchase the Boardmaker version of Picture This... which already has the photos converted into Boardmaker libraries.
Photo Holders and Accessories
We sell a variety of hook and loop photo accessories which you can use to create a low-tech augmentative communication system for your student or child. Please click on one of the photos below for more information.
High-Tech Alternative Communication
Older children and adults who are nonverbal or have difficulty speaking, often use assistive communication devices such as the ones shown above. Some devices, such as the one on the left, use printed templates which can be created using Boardmaker by Mayer-Johnson. You can either copy and paste Picture This... photos out of the Picture This... Pro software, or you can use the Picture This... Photos in Boardmaker libraries CD which is available from Mayer-Johnson. If your child's device is capable of displaying .jpg photos, you can use any of the photos from the Picture This... series. Please contact the device manufacturer to ask what type of photos your device uses.