Visual Foods
Use the Visual Foods Photo Collection to create:
Picture Menus
Picture Recipes
Receptive Vocabulary Cards
Sequencing Cards
Nutritional Cards
Grocery Shopping Cards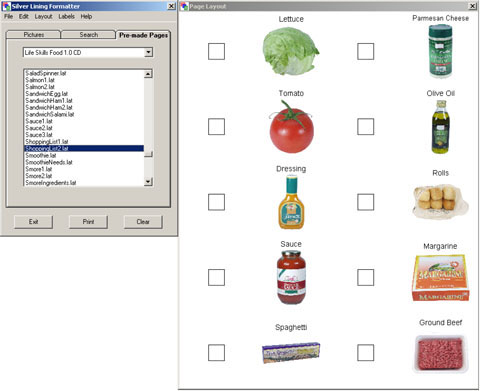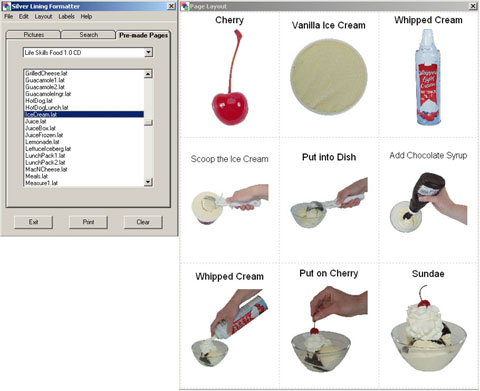 Ingredients
Over 3,500 photos of food and cooking-related procedures, over 300 pre-made layouts, and Silver Lining formatting software.
Serving Suggestions
Combine one visual menu, choice board or shopping list with an early reader, nonverbal individual or ESL student. Add a few words of praise then watch your visual learner gain new life skills and independence.
Necessary Equipment
A computer running Windows 98 or higher, including Windows 7, or Mac OS X 10.2 or higher, a CD-Rom drive and a printer.
The Visual Foods Photo Collection can be used with any age group. For young children it can be used to teach sequencing or receptive food and equipment labels. For older clients it can be used to teach sequencing, meal preparation and nutrition. It can also be used with any nonverbal client who needs a picture menu.
The photos on the Visual Foods CD are taken against a plain background from the user's perspective. This helps to clearly illustrate each step of the process. Also included on the CD are equipment photos and cooking-related procedures such as setting the table, washing dishes and cleaning up.
Included on the CD is a variation of the software program which comes with Picture This... Pro. The software allows you to search by word, choose custom card sizes and text, or use the Pre-made Pages panel to easily select from over 300 pre-made recipes, grocery lists and equipment lists. These lists can be printed as is or customized to fit the user's situation.
Visual Foods - Mac/Win
Price: $49.95
Visual Foods CD