Find Photos from any Collection Faster
Search by Keyword
Preview Photos
Print Any Size Card
Searching for just the right photo is now a lot easier. Peekaviewer enables you to search by keywords, categories or both. Your results are displayed as thumbnail photos making the selection process quick and simple. Once you've selected the right photo, you can format it into any size you want.
Works with the following photo collections:
Functional Living Skills and Behavioral Rules
Picture This Pro V3.0 or higher
Places You Go, Things You Do
School Routines and Rules
Visual Essentials
Visual Foods
In the following example, a search was made for all of the red apples on the Visual Essentials CD. Thumbnail photo results are shown on the left. You can simply click on the photos that you want to add to the page layout.
You can search multiple CDs simultaneously even if they are not installed or in your drive.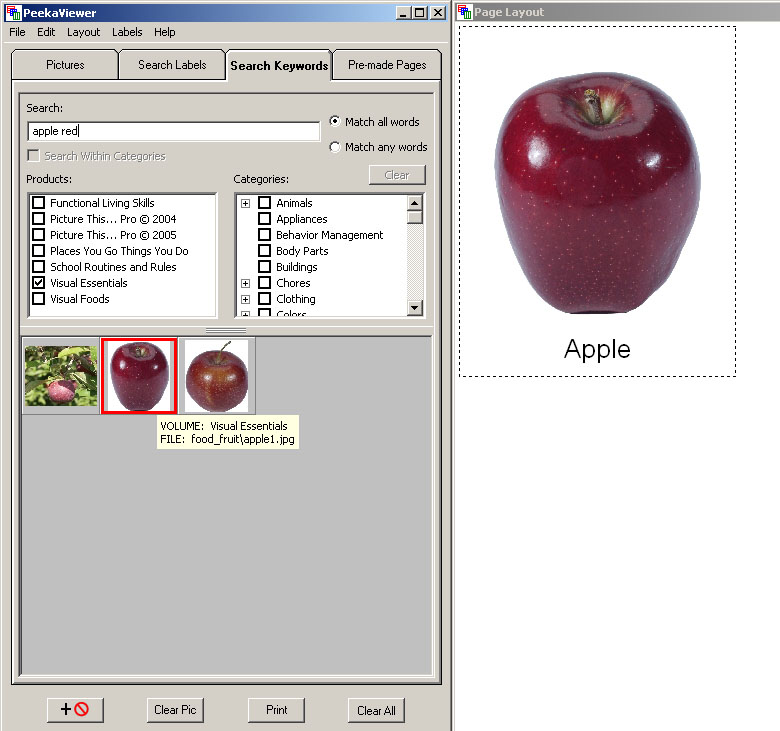 System Requirements
A computer running Windows '98 or higher, a CD-Rom drive and a printer.
PeekaViewer - Win
Price: $29.95
Combination PeekaViewer and any photo CD - Win
Price: $19.95
For more information, send a note to info@silverliningmm.com
or call toll free 888-777-0876
(C) 2007 Silver Lining Multimedia, Inc.